Giana Sisters Twisted Collection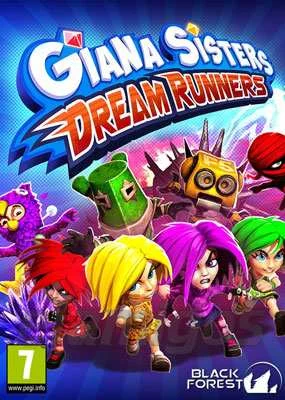 Category:

Release date:

Collection 2012-2015

Game Genre:

Arcade, platform, crowdfunding, indie games, 2.5 D

Developer:

Release:

ElAmigos

Platform:

PC

Languages:

English, French, Italian, German, Spanish, Polish, Russian, Japanese

Dubbing/Audio:

English

Crack:

Codex

Game size:

1.23GB
Giana Sisters: Twisted Dreamsis more or less a puzzle platform game which comes as a sequel of Giana Sisters DS which was released in 2009. One thousand nine hundred eighty-seven hugely popular The Great Giana Sisters which was a Commodore 64 is a predecessor of Giana Sisters: Twisted Dreams. The PC Game Giana Sisters Twisted Collection (+Giana Sisters: Twisted Dreams)was created by investing a huge sum of money amounting to about $150000 through Kick-starter and various Crowds funding websites.
Plot
The plot of the game revolves around Maria, who is wrongfully abducted and held prisoner. Gurglewocky, a wicked dragon, has imprisoned Maria into the Dream World. Maria's sister Giana who recently became a teenager is the only one who can enter the fated Dreamworld and consequently rescue and save Maria. Giana going through a lot of transformations on account of her puberty has great control and manipulation power over her dreams. Giana has to make use of this newly acquired capability of manipulating her dreams and ability to jump from between the dreams and transforming herself into some "punk" and "cute" persona. This, Giana has to do all while battling against her inner conflict, terror and searching for her sister Maria and rescuing her. Just like the previous games, Giana is capable of picking up crystals to gain points and discover hidden secrets too. 
The experience
Available for completely free Giana Sisters: Twisted Dreams - Rise of the Owlverlord enables the players to control and use the transformation system with full ease. The players can even switch the persona of Giana from "Cute" to "Punk" or from "Punk" to "Cute". Cute Giana is capable of twirling and gliding across the air to travel to far distances while avoiding danger. Whereas Punk Giana is for fighting purposes and uses a violent dash attack enabling her to assault the enemies and the bounce off to escape. While Cute Giana inhabits the real world, the Punk Giana inhabits the dream world. The player can easily switch between different personalities and make use of the varying abilities depending on the situations.
On 30th of August 2012, Project Gianabecame one of the first titles which had been featured on the prestigious program of Valve's Steam Greenlight. This was a great initiative to enable the people and the community to analyse and rate the different games which the players enjoy and would wish to see on Steam Downloading site. Fans were also invited, and their suggestions were asked for a title they would prefer for the video game. The most popular three choices for the title were Twisted Dreams, Project Giana and Giana's Twisted Dreams. Later on 21st September 2012, the incredible video game was named after the popular choice title, Giana Sisters: Twisted Dreams. 
For an incredible experience, one must download Giana Sisters: and enjoy every bit of it. Rock, Paper, Shotgun's John Walker ofRock, Paper, and Shotgun remarked very aptly for the video game, "looks beautiful. It's a puzzle platformer in which you can control not only the main character but also the mood of the world you're in".
The Perfect Puzzle Platform Game Dream Runners (2015)
Another fast-paced sequel of Giana Sisters is this incredible puzzle platform game named Giana Sisters: Dream Runners. Giana Sisters: Dream Runners was earlier named Giana Sisters: Dream Rush PC. It is the fourth sequel of the popular and widely loved Giana Sister series. Giana Sisters: Dream Runners almost like its predecessors is a platform and puzzle game which was developed by Black Forest Games. Since the game is a multiplayer game, it enables one to race with other 4 Gianas and compete against them in the Kingdom of Gessert. The players battle each other using all kinds of power-ups and weapons. It can be played head-to-head and even supports multiplayer gaming for up to four players.
PC Game Giana Sisters 2D (2015)enables the player to play in multiplayer mode with three other players, or there is a feature of AI opponents. Depending on the number of players, the game can either be online or offline as well. Players are kept on their toes while they are battling and striving to finish first pushing other players off from the screen. The players do this with the help of power ups as well as boosters. 
Key features:
- The game supports single as well as four simultaneous online and local gaming 
- Giana Sisters: Dream Runners is an extremely competitive and fast-paced platforming pick and play the game.
- As the name of the game quite well suggest, it is all about being faster than the other. One needs to be way faster than their opponents and push the opponents off the screen to win.
- There are nine different levels in the game for the players to race and win. 
- The game has four characters that the players can unlock with the progression of the game to the next levels. 
- The opponents can be attacked with power-ups and boosters available and can be pushed off the screen. 
With immense popularity and wide acclamation of this game, Giana Sisters: Dream Runners has totalled its download to a huge 3100 in all. 
Racing, platform and action game available for free Giana sisters 2D,is an incredible adrenaline rush game. 
Gameplay 
There are four players supported racing in a track meant for the position of pool. This is done to trick the opponents and outsmarting them leading to them getting off the screen. The last standing Giana rightfully wins. The power-ups, weapons and obstacles present make the game far more interesting. 
Characters in the game
- Purple Giana- Purple is a colour which represents the sense of justice, practice of discipline, intellect possessed and practice by Giana. However, since the colour purple screams of luxury, Purple Giana's personality also contains a sense of stubbornness and pride. 

- Green Giana- Green Giana represents her intimate relationship with her sister Maria. This is the reason Green Giana is compassionate, affection, sense for friendship and family as well as Giana's infinite curiosity. 
Red Giana and Yellow Giana are also characters present. One should definitely download Dream Runners (2015) for an incredible puzzle experience. 
Download Game!
Trailer
Screenshots
System Requirements
Giana Sisters Twisted Collection (2012-2015), 1.23GB
ElAmigos release, games are already cracked after installation 
(2D + Dream Runners - crack by Codex; Twisted Dreams - DRM Free).

1. Extract files.
2. Burn or mount the image.
3. Install the game.
4. ElAmigos release, game is already cracked after installation.
5. Play the game. If you like this game, BUY IT!
Giana Sisters Twisted Collection Download for free
Warning! You are not allowed to view .torrent and drive.google links.
If you do not have an account - Sign up!
Included content:
Giana Sisters: Twisted Dreams (2012) [v1.2.1 + Haloween and Christmas 2012-2013 Levels]
Giana Sisters: Twisted Dreams - Rise of the Owlverlord (2013) [v1.1.2 + Haloween and Christmas 2013 Levels]
Giana Sisters: Dream Runners (2015) [v1.0]
Giana Sisters 2D (2015) [build 25.08.2017]
Download now
Telecharger jeux Gratuit | Free-Telechargement | Spiele Kostenlose | Herunterladen | Descargar Juegos Gratis | Scarica giochi | قم بتنزيل اللعبة
Minimum:
Processor: Core i5 2.66 GHz
Graphics: 512 MB VRAM
Memory: 2 GB RAM
Disk space: 2 GB HDD
Operating system: Windows XP (SP3)/Vista/7
Download now