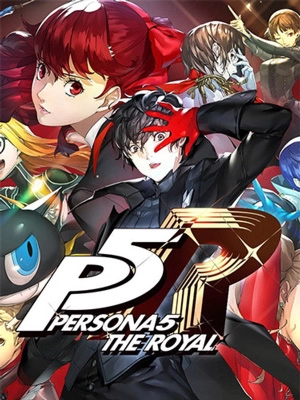 Category:

Release date:

21 October 2022

Game Genre:

RPG, TPP, turn-based, reeditions/remasters/remakes, jRPG, urban fantasy, Xbox Game Pass, Find Your Next Game, romances

Developer:

Atlus

Release:

FitGirl

Platform:

PC

Languages:

English, French, German, Italian, Spanish

Game size:

8.35GB
Persona 5: Royal is the fifth installment of one of the most popular and original jRPG series, expanded with new content. The brand was born in 1996 as a spin-off of the Shin Megami Tensei series. Titles from under the Persona banner quite quickly gained cult status among fans of Japanese RPGs. However, they only gained true popularity in the West with the release of Persona 4 on the PlayStation 2 in 2009. The original Persona 5 was released in Japan in September 2016 for PlayStation 3 and PlayStation 4, and came to Western gamers in spring 2017.
Persona 5: Royal offers fans a mass of new and optional content, as was the case with other expanded versions of games in the series, such as Persona 4: Golden and Persona 3: FES and Portable. It's worth noting that all the new features are included as part of the title's original campaign. Players can this time experience the entire third semester of school, which for various reasons was unavailable in the original. It was filled with new events, as well as tasks and interactions between characters. During the course of the game, we also visit previously unseen locations and have the opportunity to hang out with friends in new places, such as Tokyo's Kichijouji district.
Storyline
The plot of Persona 5: Royal is set in contemporary Japan. The main character is a high school student who, as a result of some unfortunate incident, undeservedly ends up in the criminal chronicle, with charges of assault and battery. To avoid further problems, his family sends him to Tokyo. While there, he is placed in the care of a close friend of the relatives, who is to act as his guardian for a year.
Starting at a new school, the protagonist must face discrimination from students and teachers as a result of his criminal past. Despite his initial difficulties, he soon befriends a classmate from another class, Ryuji Sakamoto, who, like the protagonist, feels like a socially unaccepted outcast. The two discover together that, with the help of a mysterious smartphone app, they are able to transport themselves to another, surreal world in which they are both able to summon personae, powerful avatars reflecting different aspects of their personalities. The alien dimensions turn out to be the product of the unhealthy desires and ambitions of specific individuals. By stealing their special "treasure", which is hidden in the center of the degenerate world, the heroes are able to force its creator to confess his guilt and confess his sins in the real world. The protagonist, together with Ryuji and other personas holders he meets, decides to form a team of "heart thieves" whose targets are criminals, politicians and celebrities with many offenses on their conscience.
The Royal version introduces a new key team member to the game. This is Kasumi Yoshizawa, a red-haired gymnast who arrives at Shujin High School at the same time as the main character. Kasumi plays a significant role in the title's modified story and quite quickly joins the group of "heart thieves" led by the protagonist, although she disagrees with its philosophy and way of doing things. In the course of the adventure, we also get a chance to befriend two new side characters - Takuto Maruki, a school psychologist, as well as a mysterious boy who shows up one day at the Leblanc cafe. In addition, Persona 5: Royal also includes many new dialogue scenes, as well as events related to previously absent significant events and holidays in the game, such as New Year's Day and Valentine's Day.
Mechanics
Persona 5: Royal uses the gameplay model known from the third and fourth installments of the series, enriching it with a few new yet important innovations. The gameplay is divided into two segments - adventure and exploration. In adventure mode, we lead the life of an average student, avoiding trouble, ensuring good grades on exams and earning money after hours. The game takes place over the course of one year. Time here is determined by the calendar, which is divided into months, which in turn are divided into individual days. Outside of school and home, we can go to various Tokyo locations, offering a range of attractions such as restaurants, movie theaters, stores, game rooms and so on. Players also develop friendships with various people they meet. Developing relationships with others has a key impact on various aspects of combat and exploration of other dimensions.
In exploration mode, we explore other worlds in an effort to steal treasures belonging to their creators. Each of the explored underworlds differs in appearance and style and offers unique traps and dangers. Opponents stand in our way, which we must face in battle. Duels take place in turn-based mode in separate arenas. The enemies here are all sorts of demons and characters from legends and myths from around the world, which are part of the collective human subconscious in the title's universe. The Royal version introduces new locations and levels that were not available in the original. Previously unseen optional bosses and hidden treasures also await players in the old and new dungeons. The game also offers a number of new powerful personas.
Members of our team of four use firearms and white weapons, as well as special magical attacks provided by personae. The main character is the only one who has multiple avatars, additionally being able to freely swap and combine them with each other using options unlocked over time. Persons are also acquired through negotiation. This is because after meeting certain requirements during duels, we are able to convince the opponent to join our hero. It's worth noting that in addition to the large undergrounds belonging to the next targets of the hero team, players also explore an extensive and randomly generated underground labyrinth called Mementos. On the spot, we perform side quests involving changing other people's personalities, which we are asked to do by friends or by complete strangers, via a special website for "heart thieves" fans.
Technical issues
Persona 5: Royal was developed with the PlayStation 4 in mind, and compared to the original, the developers have increased the detail of 3D character and environment models, texture quality, and introduced support for 4K resolution (only on PlayStation 4 Pro). The production uses classic enemy designs, which should be familiar to fans of other games under the Shin Megami Tensei banner. Shigenori Soejima (Persona 3, Persona 4, Trauma Center series) is responsible for the look of the characters, while Shoji Meguro is responsible for the sound. The composer has prepared an extensive music track inspired by acid jazz. The vocal tracks, for which the series is already famous, are performed by Japanese singer Lyn Inaizumi. Persona 5: Royal includes a number of new music tracks, animated story interludes.
Download Game!
Trailer
Screenshots
System Requirements
Persona 5 Royal (2022), 8.35GB

v1.0.0 + Switch Emulators + 60FPS Mod
Languages: ENG/MULTI5
Original Size: 14.7 GB
Repack Size: 7.6~8.4 GB

1. Extract files.
2. Install the game.
3. Play the game. If you like this game, BUY IT!
Persona 5 Royal Download for free

 Download from TeraBox
Warning! You are not allowed to view google.dive links and torrent file.
If you do not have an account - Sign up!
Based on Persona_5_Royal_NSW-NiiNTENDO Switch scene release: n-persona5royal.nsp (15,237,759,824 bytes)
Ryujinx (v1.1.324.0, October 23, 2022, 43 MB), Yuzu EA (v3045, October 22, 2022, 86 MB) and Yuzu Mainline (v1207, October 22, 2022, 109 MB)
Switch Firmware v14.1.1 (321 MB) added as a requirement for Ryujinx
60FPS Mod added and activated for Ryujinx
To boost performance on Yuzu emu, as soon as you get into the game press 'ctrl + u' to remove fps lock and subsequently unlock more FPS. (You can see the unlocked status next to your FPS counter)
To boost performance on Ryu emu, disable the V-sync option either before boot up or while playing to see the FPS difference. (Screen tearing may happen, so beware)
Test all emus and use the one which performs better (and with less bugs) on your system
100% Lossless, but NOT MD5 Perfect: encryption was removed and game resources has been decompressed for better repack size and game perfomance
NOTHING ripped, NOTHING re-encoded
Selective Download feature: you may skip downloading and installing of English or Japanese voiceovers
Significantly smaller archive size (compressed from cumulative 14.7 to 7.6~8.4 GB)
Installation takes 4-10 minutes
After-install integrity check so you could make sure that everything installed properly
HDD space after installation: 33.2 GB (34.4 GB during installation)
Language can be changed in emulators settings
Use older build of Ryujinx from "_Ryujinx Windows 7" folder to play on Windows 7, if the included build doesn't work for you
At least 2 GB of free RAM (inc. virtual) required for installing this repack
Password:
elamigosedition.com
Telecharger jeux Gratuit | Free-Telechargement | Spiele Kostenlose | Herunterladen | Descargar Juegos Gratis | Scarica giochi | قم بتنزيل اللعبة
Minimum:
Processor: Intel CPU Core i7 3770 3.4 GHz / AMD CPU AMD FX-8350 4 GHz
Graphics: Nvidia GPU GeForce GTX 770 / AMD GPU Radeon R9 290
Memory: 6 GB RAM
Disk space: 15 GB available space
Operating system: 64-bit Windows 7, 64-bit Windows 8 (8.1), or 64-bit Windows 10